Newsletters
"A Moment for Some Joy" - Kol Ami newsletter 4-11-2023
04/11/2023 07:50:09 PM
| | |
| --- | --- |
| Author | |
| Date Added | |
| Automatically create summary | |
| Summary | |
Kol Ami Newsletter: April 11, 2023

​​​​​​​
Click for Kol Ami Calendar of Events

Worship Event 
of the Week

Shabbat Shulchan
At 6 p.m. Friday, April 14, we gather together at All Souls for an informal Shabbat Shulchan service, followed by a chametz/bread blowout dinner to celebrate both Shabbat and the end of Passover. RSVP required to rabbidoug@kolamikc.org.   

Community Event

Yom HaShoah
Commemorate the 80th anniversary of the Warsaw Ghetto uprising and the 60th anniversary of the dedication of the memorial to the 6 million at 1:30 p.m. Sunday, April 16. The in-person program at the J's White Theatre (5801 West 115th St., in Overland Park) is also available online at the YouTube Channel of the Midwest Center for Holocaust Education. The program includes the wartime experiences of Judy Jacobs (born in Hungary in 1937) and the lighting of six candles (honoring the 6 million). For more information, see mchekc.org or email shellyc@mchekc.org.

Upcoming
Kol Ami Event

Book Club
Kol Ami book club meets on Zoom Tuesday, April 25, at 7 p.m. to discuss When the Angels Left the Old Country, by Sacha Lamb, described by book-club facilitator Lee Merrill as "a queer immigrant fairytale." Zoom link to come.

Yahrzeits This Week
April 12
Belle Dietchman – stepmother of Alan Dietchman
April 15
Sadye Silvey Karp – grandmother of Ellen Karp

We Wish
Mi Shebeirach
A Complete Healing of Mind, Body and Spirit to:

Robert Clinton
Kenneth Dantzler
Rev. Kendyl Gibbons
Amanda Goldstein
Frank Karr
LJ Karr
Marc Ordo
Rachel Perera
​​​​​Michah ben Sarah
Edi Shifrin
Carol Swartz
Joel Weeks

If you would like a name to continue to be listed or if you have a
new name to include, please send an email to  healing@kolamikc.org. 


Rabbi's Week in Review




For many years now (excluding the Covid-lockdown years), we have held an annual Congregation Kol Ami second-night Passover seder. Not only has it been a great opportunity to bring many of our congregants together to celebrate a central holiday — really the most celebrated of all the Jewish holidays on our calendar — but it also has served an important role in welcoming others into our community.

I do not think it is an overstatement to say ... Click here to read the rest of Rabbi Doug's blog post.

This Week's Torah Portion
Parashat Shemini (Vayikra/Leviticus 9:1-11:47)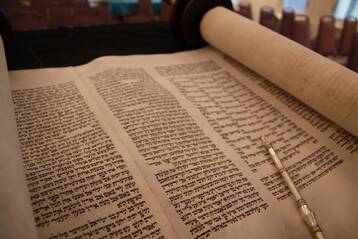 We get an early glimpse of Kashruth — which foods are permitted and which foods are prohibited under traditional Jewish dietary laws. This follows our Passover celebration, in which we engage in an additional set of dietary laws and restrictions.

All of this leads us to contemplate the purpose of our food beyond basic sustenance — how our sense of what is Jewish food connects us as a people, creating a sense of cultural and spiritual meaning. When we consider how our food reaches our tables, we think of all those without whom we would not be able to receive our food. Also, the means by which food is produced connects us to our responsibility to be good stewards of our planet, to be mindful of the animals and plants that are essential components of G-d's created world.  

Weekly Feature

Take a Walk With Us May 6
Kol Ami and Ga'avah KC Walk the Walk —
AIDS Walk, That Is
By Ellen Karp


Join Kol Ami and Ga'avah KC as we walk together Saturday, May 6, at the 35th annual AIDS Walk, in Theis Park (Emanuel Cleaver II Blvd. and Oak St., just south of the Nelson-Atkins Museum).

Because it is Shabbat, Rabbi Alpert will hold a brief Shabbat-morning service at 8:30 a.m. on the south lawn of the Nelson-Atkins near the glass labyrinth. If you prefer to join just the walk itself, we reconvene at 9:15 a.m. by the AIDS Walk registration tables for opening ceremonies and entertainment, which begin at 9 a.m., and the short walk, which starts at 10 a.m. It's a festive and friendly event (especially if the weather cooperates). 

We have a limited supply of custom-designed Kol Ami and Ga'avah T-shirts, available for $18 each as a donation to "AIDS KC." Simply go to the AIDS Walk website — click here — and click on the "Donate" button in the red tab. Click the recipient "Team" and find our team: "Ga'avah & Kol Ami KC." Sizes are limited, but if you'd like to dress for the occasion, please email kehilahvp@kolamikc.org with your preferred size, and we'll get a shirt to you the day of the walk when you arrive at Shabbat services or at the meetup location at the registration desk. 

Hope to see you there!

​​​​​​​
Our mailing address is:
Congregation Kol Ami
4501 Walnut Street
℅ All Souls Unitarian Universalist Church
Kansas City, MO 64111
Fri, September 22 2023
7 Tishrei 5784
Sign Up For Our Newsletter
Fri, September 22 2023 7 Tishrei 5784