Newsletters
A Blessings-Filled Shabbat - Kol Ami Newsletter 5-2-2023
05/02/2023 06:01:07 PM
| | |
| --- | --- |
| Author | |
| Date Added | |
| Automatically create summary | |
| Summary | |
Kol Ami Newsletter: May 2, 2023


Click for Kol Ami Calendar of Events

Worship Event 
of the Week

Guest Speaker and Special Oneg Shabbat
We look forward to a very special Shabbat. Beginning at 6 p.m. this Friday, May 5, we have a guest speaker, followed by an Erev Shabbat service, and some time to honor Wynne Begun and Patricia Clinton (our outgoing and incoming presidents) as well as all of our board members and volunteers. Our Kol Ami board is sponsoring the Oneg Shabbat afterward.

Kol Ami Event

AIDS Walk
This Saturday
Kol Ami and Ga'avah KC walk together this Saturday, May 6, at the 35th annual AIDS Walk, in Theis Park (Emanuel Cleaver II Blvd. and Oak St.). Rabbi Doug will hold a brief Shabbat-morning service at 8:30 a.m. on the south lawn of the Nelson-Atkins near the glass labyrinth. Joining just the walk itself? We reconvene at 9:15-9:30 a.m. by the AIDS Walk registration tables for opening ceremonies and entertainment, beginning at 9 a.m., and the short walk, starting at 10 a.m. 

​​​​We Wish
Mi Shebeirach
A Complete Healing of Mind, Body and Spirit to:

Robert Clinton
Kenneth Dantzler
Sheila Denton
Rev. Kendyl Gibbons
Amanda Goldstein
Frank Karr
LJ Karr
Marc Ordo
Rachel Perera
​​​​​Michah ben Sarah
Edi Shifrin
Carol Swartz
Joel Weeks

If you would like a name to continue to be listed or if you have a
new name to include, please send an email to  healing@kolamikc.org. 
Rabbi's Week in Review




While we have a packed Shabbat this week (guest speaker, special Oneg Shabbat, AIDS walk), I wanted to focus on one aspect of our Shabbat celebration. We have the opportunity to honor and celebrate our lay leaders as we have a changing of the guard, with outgoing president, Wynne Begun, and incoming president, Pat Clinton. This in addition to all of our incredible board members who give so generously of their time to create a synagogue ... Click here to read the rest of Rabbi Doug's blog post.

This Week's Torah Portion
Parashat Emor (Vayikra/Leviticus 21:1-24:23)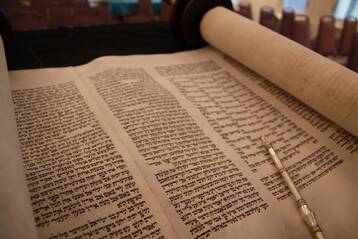 We read this week about the concept of Lex Talionis — a justice system of "an eye for an eye." We learn that this is not interpreted literally. Rather, justice here is defined as the monetary value of what the injured has endured. There was always an understanding that punishment in the form of retributive violence is not how humane societies seek justice. Query as to whether the proliferation of the death penalty in certain states (including Missouri) is contrary to our Jewish approach to seeking justice.

Community Event

Ga'avah KC Fundraiser
Ga'avah KC (KC's Jewish LGBTQ+ group) is raising funds in order to participate in the KC Pride Alliance weekend, with a screening of Hedwig and the Angry Inch Wednesday, May 10, at Screenland Armour (408 Armour Road, North Kansas City). Pre-movie entertainment, including live performances, begins at 6:30 p.m., followed by the film. Click here for tickets and more information.

Community News

May Is Jewish American Heritage Month 
President Biden has proclaimed May 2023 as Jewish American Heritage Month. "This Jewish American Heritage Month, let us join hands across faiths, races, and backgrounds to make clear that evil, hate, and antisemitism will not prevail. Let us honor the timeless values, contributions, and culture of Jewish Americans...." And he calls "upon all Americans to learn more about the heritage and contributions of Jewish Americans and to observe this month with appropriate programs, activities, and ceremonies." To read the full proclamation, click here.

Membership

Interested in membership at Kol Ami? Email membership@kolamikc.org.


 

Our mailing address is:
Congregation Kol Ami
4501 Walnut Street
℅ All Souls Unitarian Universalist Church
Kansas City, MO 64111
Mon, December 11 2023
28 Kislev 5784
Sign Up For Our Newsletter
Mon, December 11 2023 28 Kislev 5784