Newsletters
"Let Us Not Be Distracted" — Kol Ami Newsletter 8-8-2023
08/08/2023 06:05:07 PM
| | |
| --- | --- |
| Author | |
| Date Added | |
| Automatically create summary | |
| Summary | |
Kol Ami Newsletter: August 8, 2023

​​​​​​​
Click for Kol Ami Calendar of Events

Worship Event
of the Week

Shabbat Celebration
Join us for a very special Shabbat celebration at 6:45 p.m. Friday, August 11. We will be at All Souls (in Conover, at the end of the hallway) to make Shabbos and celebrate the 50th anniversary of Lara and Dan Steinel. We are so excited to honor them at this special time in their lives, and the many ways they enrich our Congregation Kol Ami family. 

Yahrzeit This Week
August 9
Stuart Gottstein - father of Beth Thompson

We Wish
Mi Shebeirach
A Complete Healing of Mind, Body and Spirit to:

Robert Clinton
Kenneth Dantzler
Brian Guthrie
LJ Karr
Marc Ordo
Shefer Rudnick 
​​​​​Michah ben Sarah

If you would like a name to continue to be listed or if you have a
new name to include, please send an email to  healing@kolamikc.org. 
Rabbi's Week in Review




We were inundated with news and commentary this past week regarding the Trump indictment(s). I have to admit to being a bit of a legal wonk about this stuff, notwithstanding that it has been decades since I have actively practiced law or have even taken a continuing legal education course. It comes out in me regarding issues about the overarching importance of the rule of law in our country (also an issue of vital importance as the judicial ... Click here to read the rest of Rabbi Doug's blog post.

This Week's Torah Portion
Parashat Re'eh (Devarim/Deutronomy 11:26-16:17)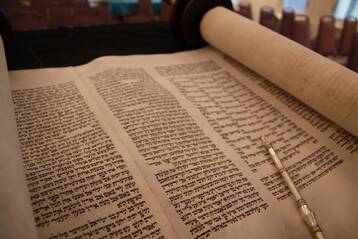 We read this week of blessing and curse — blessing for following the mitzvot/our commandments and curse when we do wrong. We have much to say in regard to how we bring blessing into our Kol Ami community and into our world. We offer blessings regularly for the important milestones in our lives, and blessings of hope for healing and well-being.

We don't utter curses in the same way we recite blessings (although I have seen it done in movies). This leaves us to ponder what it is we do or don't do that brings curses into the world.  How can we change or bring about change that alleviates ourselves and others from curse and hardship?

Upcoming Kol Ami Event

Kol Ami Cooking Series
Learn how to make challah, from 2 to 5 p.m. Sunday, August 27, in the kitchen at All Souls. 

Fay will demo her basic challah techniques (including round challah for Rosh Hashanah), and Nancy Milgram will demo her alternative braiding technique and how to make challah in a bread machine. 
The event includes light food and drink. 

The cost is $10 per person. Please RSVP no later than August 24 by clicking here or scannning the QR code below. Have questions? Email kehilah@kolamikc.org.


Our mailing address is:
Congregation Kol Ami
4501 Walnut Street
℅ All Souls Unitarian Universalist Church
Kansas City, MO 64111
Fri, September 22 2023
7 Tishrei 5784
Sign Up For Our Newsletter
Fri, September 22 2023 7 Tishrei 5784